WEBB-3 Analytics #1: August 2022
By Chadi El Adnani, Crypto Research Analyst and Arthur Serge, Quantitative Analyst @SUN ZU Lab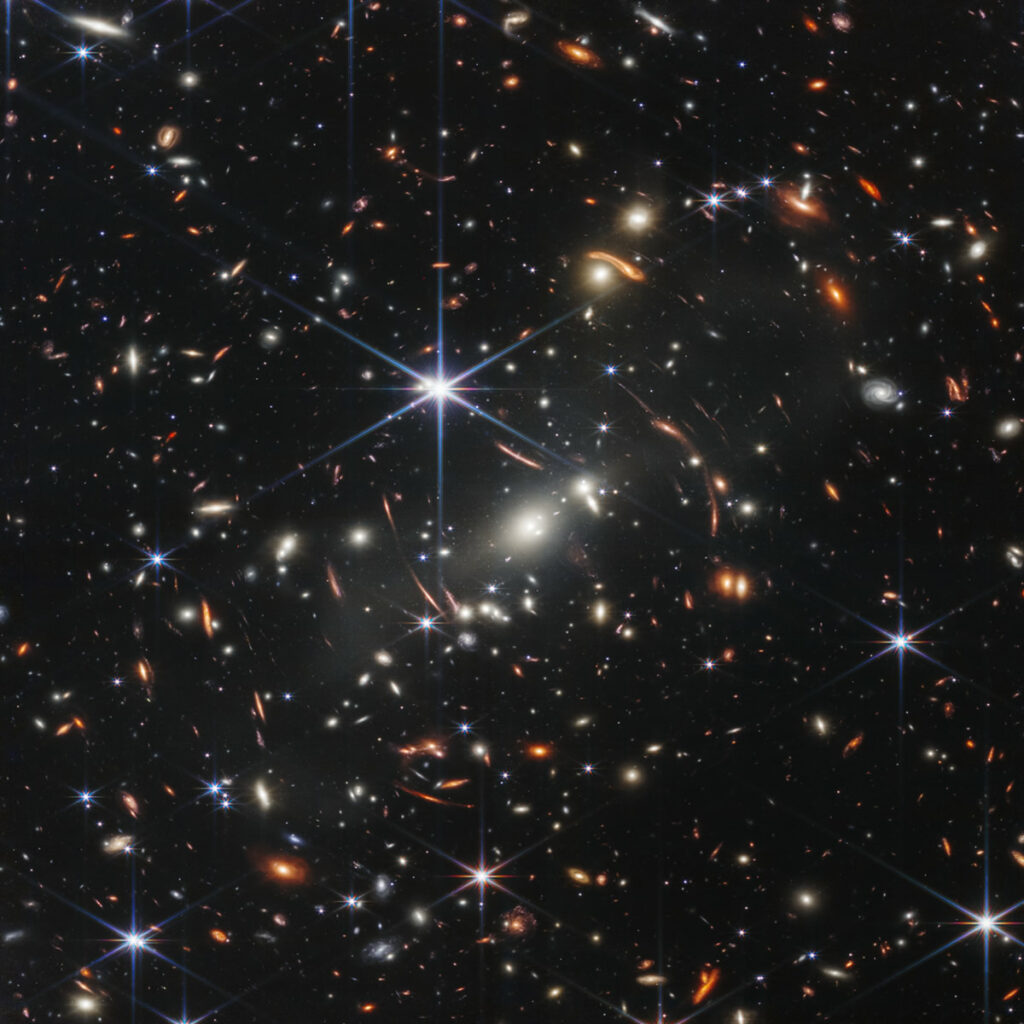 SUN ZU Lab is delighted to present this new series of publications, inspired by NASA's James Webb space telescope, which has recently produced the deepest and sharpest infrared images of the distant universe to date. In the same spirit, we embarked at SUN ZU Lab on a mission to decrypt and analyze the deepest and darkest corners of the Web3 ecosystem, providing in this first report an analysis of crypto trading activity between fiat (USD, EUR) and stablecoin (USDT, USDC) for the past month of August 2022.
Just for the pleasure of the eyes, here is Webb's first released image, on July 12th, 2022, at approximately 10:39 AM EDT, showing the galaxy cluster SMACS 0723 as it appeared 4.6 billion years ago. This slice of the vast universe is roughly the size of a grain of sand held at arm's length by someone on the ground!

Discover the full report here!
This report focuses on crypto market leaders BTC and ETH (59% of global crypto market capitalization as of September 2022). The duo stands out from other altcoins both in terms of traded volumes and order book market depth, as shown by our data over H1 22.
Starting with market shares between the leading CeFi exchanges, we notice that BTC/ETH trading against stablecoins is much more concentrated than fiat trading. More than 90% of volumes for pairs involving stablecoins happen on Binance-spot. Regarding trading concentration for fiat markets, we notice a dominance of Coinbase-Pro and FTX over the pairs BTC-ETH/USD, while Binance and Kraken control over 75% of the BTC-ETH/EUR market share.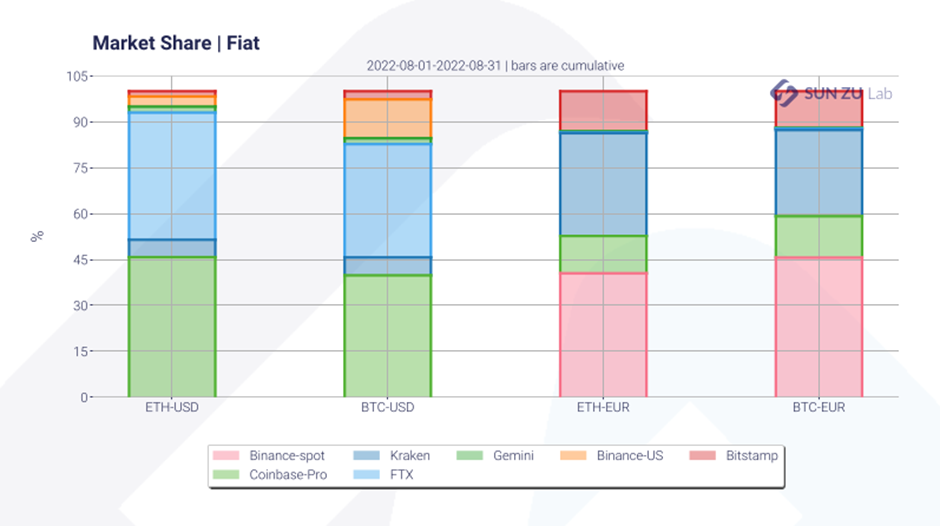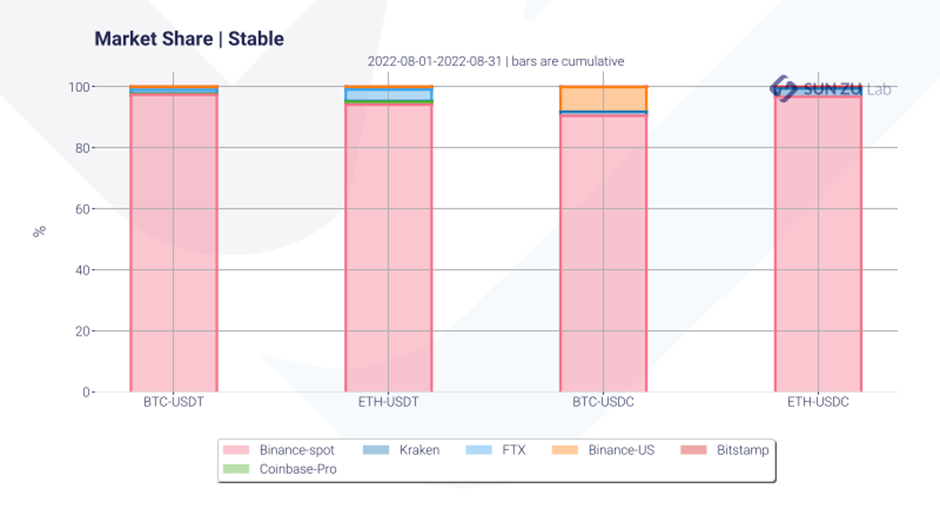 BTC-USDT traded volumes over the selected CEXs reached $125 billion, c. 3x the levels of BTC-USD volumes. On the other hand, the pairs ETH-USD and ETH-USDT presented similar levels, around $43 billion. USD-denominated volumes are more than 10x higher than EUR transactions, and trading against USDT shows volumes 20x higher than USDC.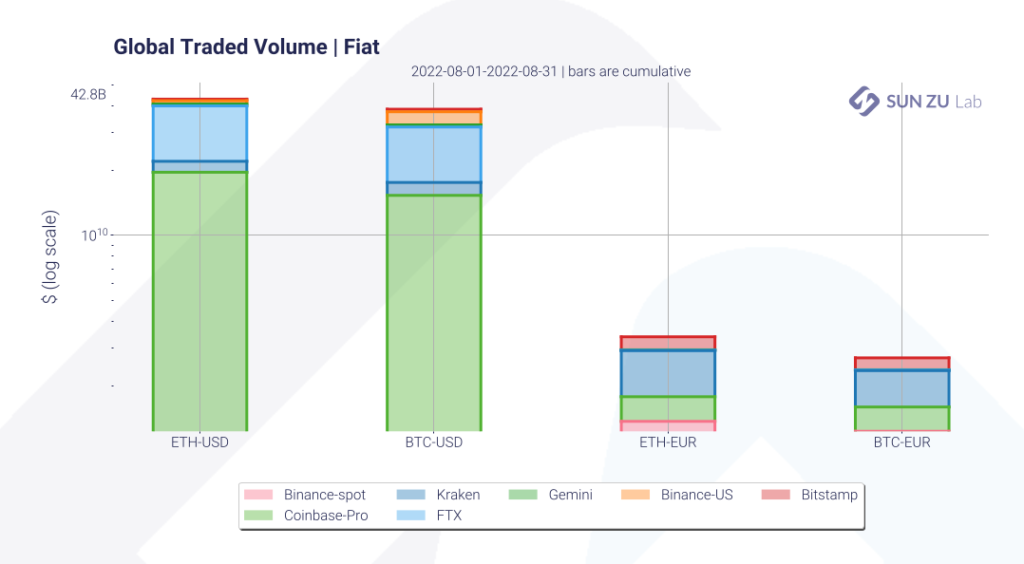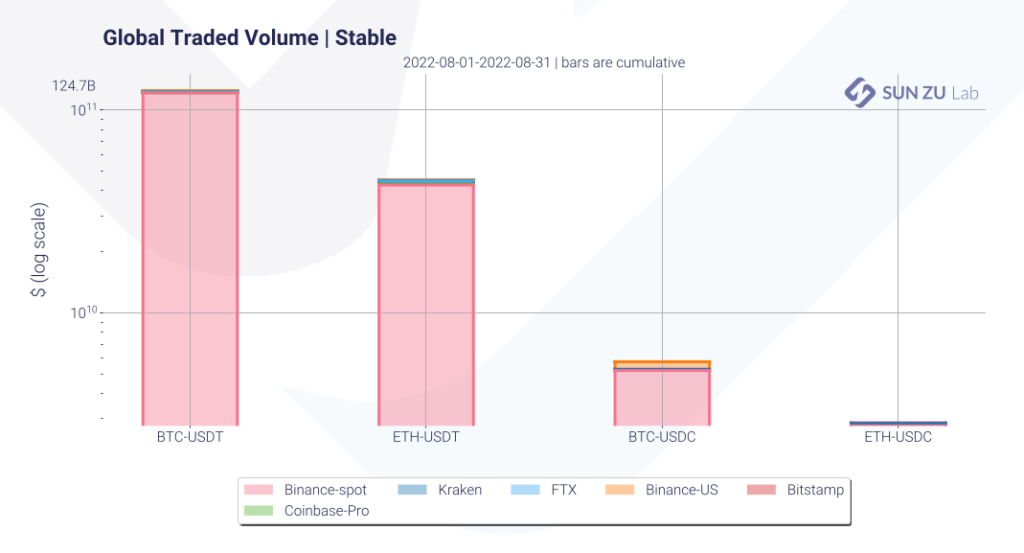 However, the previous trend is inverted regarding 50bps order book market depths: except for Binance-spot, where the majority of trading against USDT is taking place, major exchanges overall display market depth levels 2-3 times higher for USD/EUR than USDT/USDC. Kraken shows the most elevated market depth levels, with as much as $15 million in average 50bps market depths over August 2022.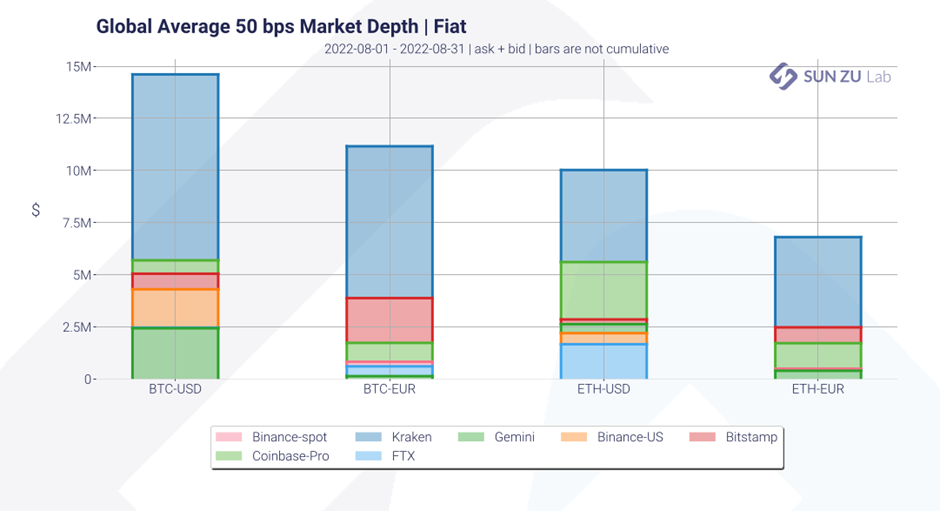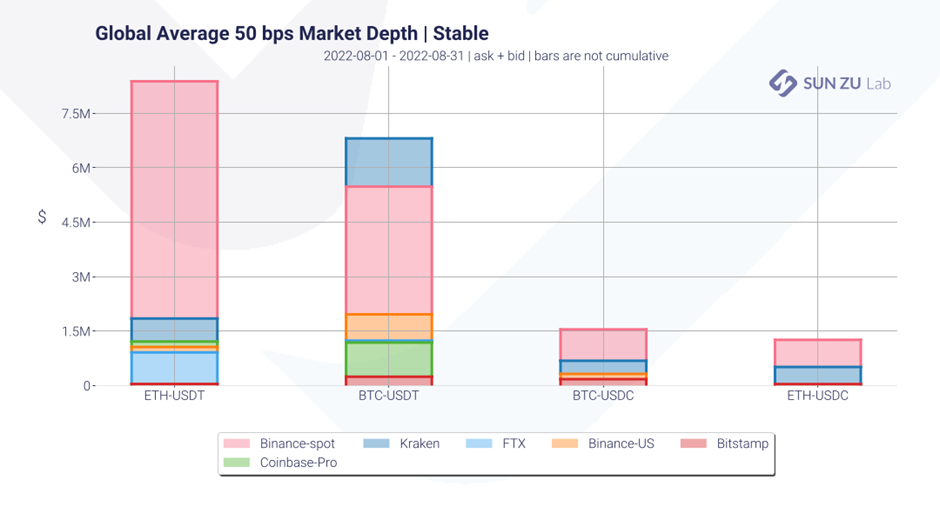 Bid-Ask spread analysis shows that Bitstamp still has some of the highest spreads relative to other CEXs, between 5 and 40bps. Binance-spot, on the other hand, displays spreads as low as 0.05bps for ETH/USDT and 0.4bps for BTC/USDT. EUR-denominated pairs show spread levels 3-5x higher than USD pairs.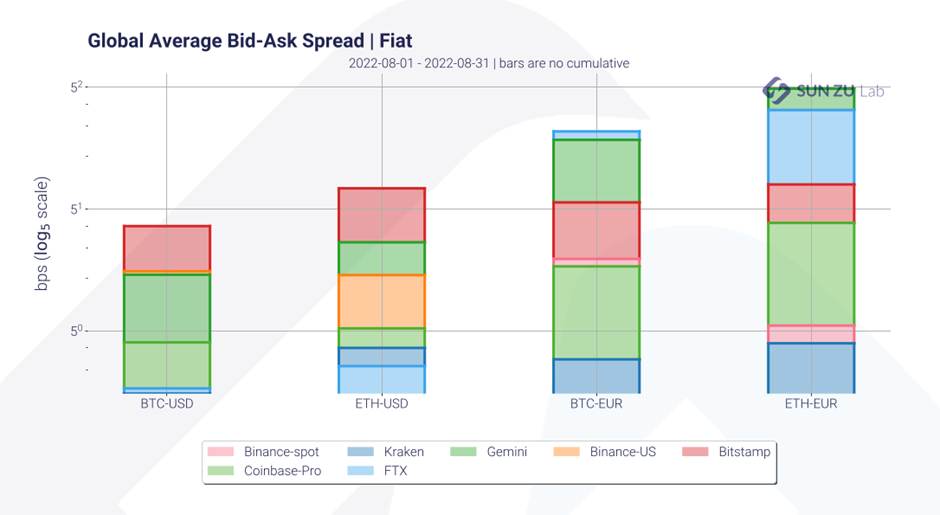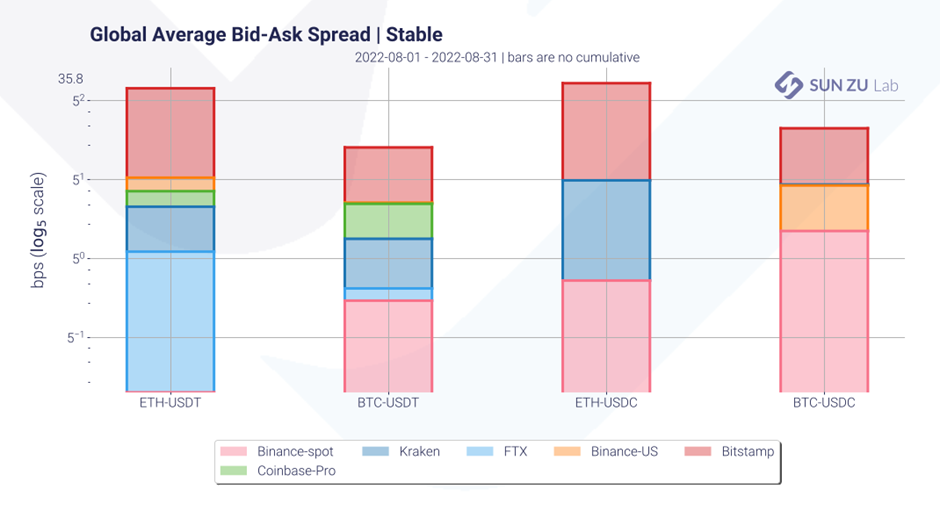 We next analyze average slippage levels from the mid-price for $50,000 equivalent market orders. Our data shows that BTC-ETH trading against USDT/USDC gives place to higher slippage than USD trading on major exchanges. Bitstamp and Binance-US have the highest slippage levels for USDT, USDC and USD pairs, while FTX and Gemini have slippage levels above 20bps for transactions against EUR.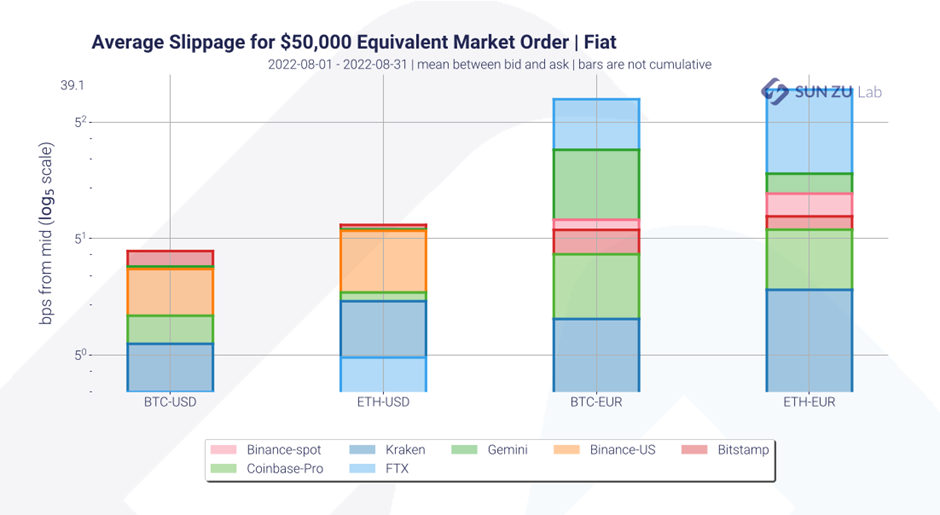 Finally, an analysis of the average time between subsequent trades shows that BTC-ETH/USD trades take place 2x faster than BTC-ETH/USDT-USDC trades on the selected exchanges. The average time between BTC-ETH/USDT trades on Binance-spot is less than 200 milliseconds. On the other hand, Bitstamp and Kraken display average times between USDT trades higher than 25 seconds, with the same being effective for EUR trades on FTX and Gemini.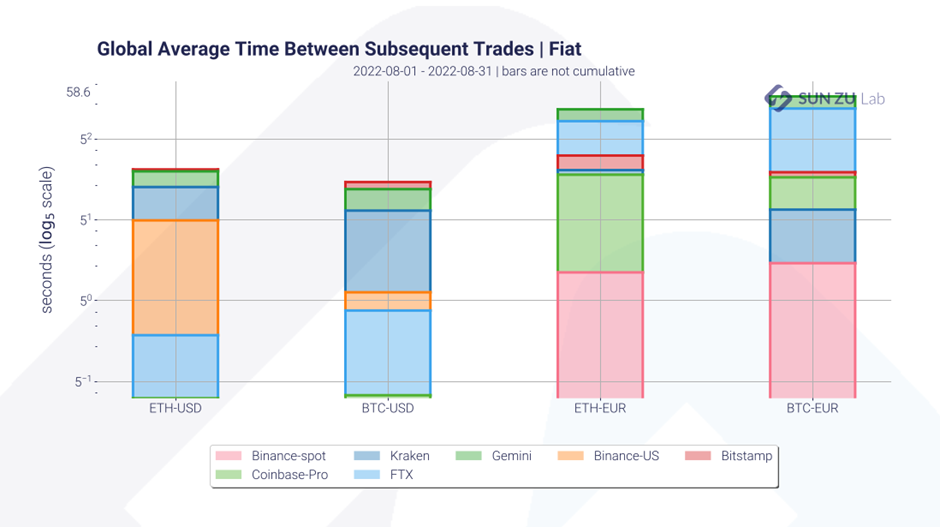 Conclusion
Many differences arise from our analysis of fiat vs stablecoin crypto trading. Trading against stablecoin is much more concentrated in specific venues than fiat trading, whereas bid-ask spreads depend mainly on the exchange's liquidity. Trading against stablecoin also shows higher volumes than fiat for BTC and ETH. Tax purposes could explain this; in many countries such as France, only trading against fiat creates a taxable event, incentivising traders to execute more crypto to crypto trades.


Questions and comments can be addressed to c.eladnani@sunzulab.com, or research@sunzulab.com
About SUN ZU Lab
SUN ZU Lab is a French Fintech that aims to become the leading independent provider of digital asset market quantitative analytics tools and services. Leveraging the founding team's 70+ years of experience in international capital markets and trading technology, SUN ZU Lab provides crypto professionals with unprecedented liquidity analytics in the form of quant reports, dashboards, real-time augmented data feeds, and bespoke studies.